Fishing on Lake Conroe & Home of the Sunday Morning Fishing Tournament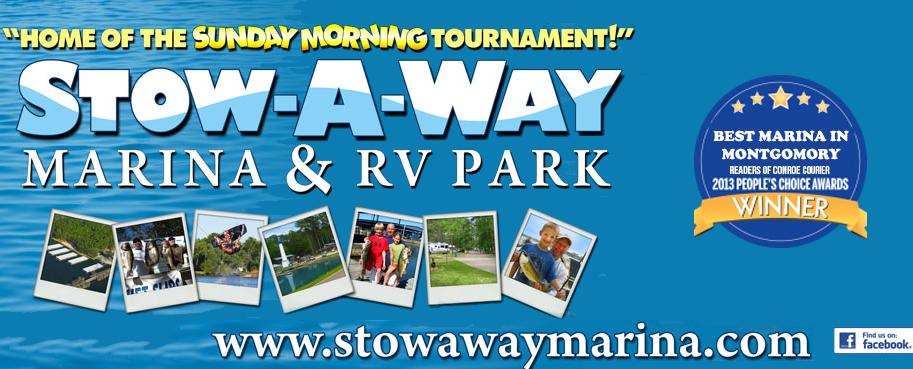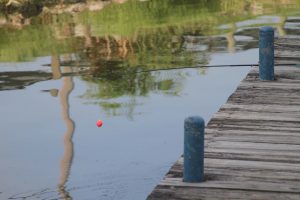 Lake Conroe is the West Fork of the San Jacinto River in Montgomery and Walker Counties.  The surface area is 20,188 acres and was impounded in 1973.  The conservation pool elevation is 201 ft. above sea level.  The normal water clarity is slight to moderate algal staining.  Lake Conroe's controlling authority is the San Jacinto River Authority.  Lake Conroe is overseen by the Texas Parks and Wild Life Department (TPWD), located in Snook, Texas.  The lead biologist is Mark Webb.  TPWD is also in charge of the Toyota ShareLunker Program.  This program accepts large mouth bass that are over 13 pounds to be used in the TPWD hatchery for breeding purposes.  The angler receives a free replica of the fish, and the fish is returned to the host lake after it breeds.  The fingerlings are used to restock public lakes throughout Texas.  The TPWD annually produces more than 7.5 million bass, 1.2 million catfish, 5.8 million white/hybrid striped bass, and more than 1 million of other species.
The predominant fish species in Lake Conroe are large mouth bass, crappie, catfish, bluegill, and white/hybrid striped bass.  Lake Conroe's fishing records are as follows:  Large Mouth Bass (15.93 lbs, 27 in), Crappie (2.77 lbs, 16.3 in), Catfish (86 lbs, 55 in), Bluegill (1.41 lbs, 10.5 in), White/Hybrid Striped Bass (14.78 lbs, 29 in).
Stow-A-Way is located on the North end of Lake Conroe, which is considered the most ideal area to fish. There are fewer recreational boats compared to the South end of the lake. The Sam Houston National Forest surrounds the majority of the North end shoreline. As a result, fewer bulkhead exists on the North end by Stow-A-Way.
On Lake Conroe, the following fishing opportunities are available:  Rod and Reel, Fly Fishing, Bow Fishing.  They can be implemented by boat, kayak, paddle board, on the shoreline, or with a fishing guide.   Stow-A-Way Marina offers access to the Lake Conroe Reservoir via our 3-lane boat ramp. Both the Fish Dude (Richard Tatsch and James Tucker) and the Lake Conroe Guide Service (Butch Terpe) work out of Stow-A-Way Marina.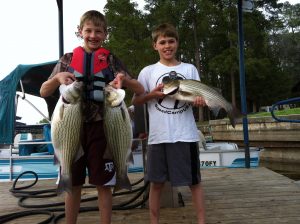 The best months to catch large mouth bass and crappie are September through May.  Catfish bite all year long.  Bluegill are most easily caught during the spring and summer months, while white/hybrid striped bass bite most often from November through March.
All of the above mentioned fish can be caught with both live and artificial bait.  At Stow-A-Way, we stock minnows, earth worms, mealy worms, liver, hearts, shad, and shrimp.  We also carry Mr. Whiskers catfish bait.  Regarding artificial bait, we stock terminal tackle, hard baits, and soft plastics.  We also carry rod and reels, bait buckets, stringers, nets, life jackets, and lake maps.
Butch Terpe – Lake Conroe Fishing Guide
Captain Butch Terpe has been a fishing guide on Lake Conroe since 1988.

Your guided fishing trip at Stowaway Marina & RV Park can pursue a variety of freshwater fish including: Largemouth Bass, Crappie, White & Hybrid bass, and Catfish.

Captain Terpe guides out of a 21′ Key West center console.

Fishing Lake Conroe – Guided fishing trips cater to the whole family.  All ages are welcome.

Rates start @ $250.00 for 5 hours.  This includes the first 2 people.  It is an additional $50.00 per person with a maximum of 4 total clients.

To book your trip today call Butch @ 936-856-7080.
The Fish Dude's Guide Service